Pool Safety…Alarming alarms
When it comes to pool safety, the question is often asked what is the best option? The answer is simple. Multiple layers of protection are recommended and should be used when making a pool safe for kids and pets.
Layering up safety is nothing new. The car industry has been doing this since seatbelts became mandatory in 1968. Airbags, child car seats and tempered glass have been added on – creating what we in the pool industry call Layers of Protection.
How does a leading swimming pool state apply "Layers of Protection"?
The state of Florida leads the country in drownings annually. With more than 1.5 million residential pools, drown prevention is crucial. It stands to reason that in the state of Florida, pool owners should implement at least three layers of protection for their swimming pools. From pool safety alarms, to pool safety fences, pool safety covers and pool nets, let's breakdown the pros a cons.
Drown Prevention Equipment Breakdown
1) Pool Alarms
Response time…
Pool alarms are sometimes used as a standalone pool safety device.  The obvious issue with only using a pool safety alarm is that the alarm only sounds AFTER someone is in the water. The average time it takes for a child to drown is 3-5 seconds – if they are able to swim. The immediate reaction to falling into the pool is to inhale. The intake of the water fills the lungs almost immediately. Pool alarms create a false sense of security for what attorneys refer to as an "attractive nuisance" or swimming pool.
The annoying alarm conundrum…
Florida, in particular, has virtually year-round flora, iguanas and an assortment of creatures that effectively visit the swimming pool at night. Alarms blare in the middle of the night or in the day – resulting in neighbors complaining. And, resulting in more than likely the alarm being turned off or removed. This renders the swimming pool completely unprotected.
Door Alarms – Secure the access points.
 A door alarm is what is recommended as a first layer of protection. These days, roughly 38% of people own security alarms for their homes. They also have locks on every door to keep trespassers out. Another 18% of those 38% have security cameras on their homes. Again, layers of protection. It is recommended that all doors leading to the backyard have an alarm of sorts. This is to alert a parent, guardian or caretaker when the back door to the swimming pool is opened.
Most home alarm systems have these types of door alarms stating "back door open". However, like most car alarms we become immune to the door sound. The door opening to the backyard should have its own distinct sound.
The best pool drown prevention equipment is…
A pool fence, pool net or cover which are ASTM Certified. These pool protection barriers keep children and pets from accidentally slipping into the swimming pool.
2) Pool Safety Cover
The benefits of a pool safety cover are that it keeps the kids and pets safe and prevents debris from falling in. However, it does require that it is taken off and put back on each time the pool is used.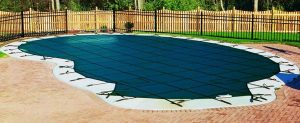 3) Pool Safety Net
A pool safety net does not offer the protection of keeping debris from the pool. But it does keep kids and pets out of the swimming pool and costs less than a pool safety cover.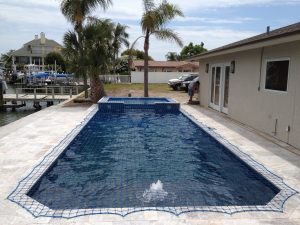 4) Pool Safety Fence

The third option, a pool safety fence is the favored solution. As a second layer of protection, it can be left installed all year. It is highly recommended to install a self-closing, self-latching, key lockable gate with your pool fence. While our pool fences are removable, it is recommended to keep them up all year long. We live in a world where technology can distract at any given moment. It simply takes three to five seconds for a tragedy to occur.  Pool fence barriers could mean the difference in those moments of distraction. Moments of distractions include common activities like: gardening or taking a phone call while children are out playing in the yard.
The key to success for pool safety is simply multiple layers of protection. These include door alarms, and a form of pool barrier (pool safety fence, pool safety cover or pool safety net). And then POSSIBLY factor in a pool alarm. Swimming pool barriers do not require batteries. They don't corrode. And, they create an actual barrier between the child or pet and the swimming pool, unlike swimming pool alarms.
Share this quick Guide to Drowning Prevention Products