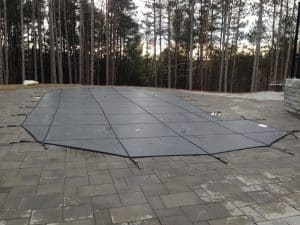 A quality winter pool cover is an investment definitely worth the upkeep. It provides that extra layer of safety plus bolsters your efforts in pool maintenance. What exactly makes this pool equipment a valuable pool care powerhouse? First, it is a pool safety barrier that prevents children and animals from falling into the water. Secondly, it shields your pool from the debris and algae-feeding sunlight. And thirdly, it prevents damage to the pool itself and expensive equipment. With such a hard-working piece of pool gear, it is important to care for your winter pool cover even before winter starts.
Preparing your pool and winter pool cover for the colder months takes time and work but it's a necessary task.
So, how do you winterize your pool and properly care for your winter pool cover?
Follow these seven steps to effectively winterize your swimming pool and prolong the longevity of your winter pool cover:
How to Winterize Your Pool and Maintain Your Winter Pool Cover
1. Clean both the swimming pool and the winter pool cover
First, attach a pool brush to a telescopic pole and scrub the pool walls. Clean the floor thoroughly to remove any algae, debris, or dirt. Next, apply mild detergent to the pool cover, wet it with a hose then scrub clean with the pool brush.
2. Check Your Water Chemistry Levels
Test the pool's water chemistry levels and adjust them to their proper ranges. Correctly balancing water in conjunction with the use of a winter pool cover is key to keeping a clean pool.
3. Maintain the Proper Water Level
Lower the swimming pool's water level. Water expands when it freezes. This can cause damage to the pool. How much water to drain is determined by the type of pool cover you use. Typically, the water level should be below the tile border or bottom edge of the skimmer.
4. Drain Pool Equipment
Drain the pool pump, filter, and heater. Removing all the water from each piece of equipment will prevent them from freezing and/or cracking.
5. Install Winter Pool Cover
Finally, install the winter pool cover. It will shield your pool from harsh weather and falling debris and protect your family and pets from accidents. Maintain the tension on springs and straps. Each spring should have the same amount of tension to keep the cover tight. Additionally, adjust the straps as needed and inspect for any gaps that may have opened.
During the winter do…
6. Remove debris
Use a leaf blower or pool brush to clear leaves and twigs from the top of the winter pool cover. Remove any debris which is stuck under the cover's edge and straps. However, do not remove snowfall that's accumulated. A winter pool cover in good condition can safely handle more than 12" of snow. Furthermore, removing it with any equipment could damage your pool cover.
7. Monitor the water level (continuously): While the pool safety cover is in place, your pool's water level should be at or just below the skimmer. This is done to properly support the swimming pool cover's weight. In order to prevent your pool cover from stretching or ripping, check the water level each month and add water if needed.
Looking for a premium pool cover? A Pool Guard's pool safety cover is a perfect choice. Our covers are custom-built to fit your pool's dimensions and shape exactly. You choose the color and fabric that complements your pool. Our covers are made to the highest safety standards, meeting ASTM guidelines.  We are so confident you will be satisfied with the product – that it even comes with a warranty.  Our 15-year warranty program includes 3 years of full coverage. Call to get an estimate.