Which swimming pool cover gives you the best value for your buck?
Article Review
Shop smart. See how many ways your ideal pool cover can work for you.
Know your options. Learn more about the types of cover options available – leaf net covers, solar covers, tarps, winter covers, and pool safety covers.
Find out which swimming pool cover design brings you the best value.
In a Pool Cover Market inundated with choices ranging in functionality and pricing, finding the ideal product can be overwhelming.
Every dollar counts and your money must stretch further than it did before. So, gravitating to a cheaper product may be your first instinctive move. But, in meeting your immediate "short-term" needs, you may lose huge savings in the long run.
Before you make that final purchase decision, take a look at the many ways a swimming pool cover functions. Do you view a pool cover as a seasonal item or a pool safety barrier? Do you want it to help conserve water or keep heat in? Let's dive into the most popular swimming pool cover styles and see what they have to offer.
Swimming Pool Cover Types
Pool Tarp – This is a basic lightweight thin plastic tarp that captures some debris and light rain. It is not designed to hold up to the heavy weight of accumulated snow or more importantly, a child. Pricing can range from $50 plus.
Drawbacks – It is not made to deal with the drastic weather from Fall or Winter. Most especially to note, it is not intended for pool safety.
Leaf Net Pool Cover – This cover is the Autumnal pool friend. Made to keep leaves and other debris out, this is usually made of polyethylene.
This cover appears like netting or a more tightly woven fabric. It is lightweight and is relatively low in price – starting at around $80 and up. The higher-end leaf covers can be custom-made for the non-traditional rectangular pool. They usually look more like a thin plastic tarp. Expect to pay a bit more.
Drawbacks – Both designs are recommended to cover a winter pool cover. This is not a stand-alone piece. They do allow rain to seep in, so using leaf net covers by themselves is not suggested. Rainwater can alter the chemistry in your pool and the water level.
Solar Covers – This swimming pool cover has only one purpose. It is made to capture the sun's rays and convert that into heat. This cover will keep your pool warm and minimize evaporation. Pricing for a solar blanket can start at $150.
Drawback – This flimsy bubble wrap material does not work very well to keep debris off. It will not stand up to a child or pet's weight. Furthermore, anything of substantial weight could fall in and be trapped in this cover as it submerges and folds over it.
Winter Pool Cover – Preparing for the swimming pool off-season means winterizing your pool. A winter pool cover is a great way to protect from rain, sleet, snow, debris, critters, and algae growth. It can also, minimize evaporation and maintain heat in the pool. Unlike a leaf net or simple tarp, this cover is the most durable of the three. An inground winter cover can start at around $400 and up.
Drawback – It is not a pool safety cover. Although, some winter covers can withhold a substantial amount of weight not all reach pool safety standards. A nice coat of snow over a pool cover can be inviting but dangerously deceptive. Under the wrong circumstances, a child could easily be engulfed in the cover in freezing temperatures.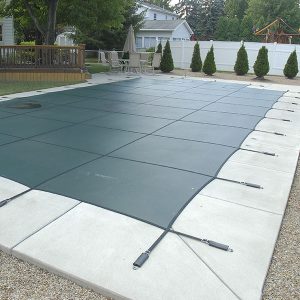 Pool Safety Cover – This swimming pool safety cover – covers all the bases. It works as a winter cover and a pool safety cover. It is ASTM certified and can bear the weight of 485 lbs. It shields from leaves and twigs, precipitation, maintains heat, and minimizes evaporation. This pool cover is an all-in-one powerhouse. If you are looking to maintain and protect your loved ones, invest in this one. It will give you peace of mind.
Looking for a swimming pool cover that meets all your cover concerns? Consider a Pool Guard pool safety cover. Our product comes with a limited lifetime warranty on workmanship and materials. With a Pool Guard swimming pool cover, you can make sure you have the best product on the market.