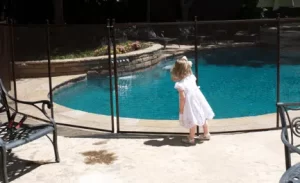 Child pool safety is a priority pool owners need to consider when installing any pool barrier. You can never be too safe. Statistics show on average there are 10 drowning deaths per day. As a pool/hot tub owner, child pool safety is a must regardless of if you have children or not. If you are in a neighborhood with children, there is always the possibility of accidental drowning. You can never be too safe. When your pool is not in use, a simple pool cover is not enough to ensure child pool safety.
Alarming but true…
Drowning is often an overlooked and silent killer. From 2005 – 2009, there was an average of 3,500 drownings recorded. About 20% of drownings were children under 14 years of age. This alarming statistic comes as no surprise. Little ones encounter a few disadvantages around a pool. Due to their small stature, they are hard to spot in times of true distress. They may also have inexperience with water safety, and can easily wander off. Although children have a few hidden dangers when swimming, we can all work to prevent drownings.
People with backyard pools or even ponds need to be extremely aware of their pool security efforts.
Child Pool Safety – 7 Ways to Keep Children Safe Around Your Private Swimming Pool
In order to make your pool or hot tub meet child pool safety standards, there are a series of aspects to consider. Here's a list to help you with your pool safety efforts.
Swimming Pool Safety Fences – One of the more popular choices to enforce child pool safety is the pool safety fence. Available in mesh, glass, wood, or metal, fences provide a barrier between the home and the water. In studies, the risk of drowning was reduced by 83% with a four-sided barrier fence compared to three-sided fencing. More than 50% of drownings among young children could have been prevented with pool security fences in place. Fences should have self-closing and self-locking latches placed out of the reach of children. Regulations state the latches should be at least 4 feet high. No child should be able to open the latch while standing on the ground.

Pool Fence child safety gate (Child proof locking mechanism) – You will be surprised at how determined little ones will try and gain access to the pool. If you are managing the flow of various age groups the childproof lock is a must. Pool Guard uses the award-winning Magnalatch® in its fences.

Cover/Net – Swimming pool safety covers act as a secondary safeguard if the fence fails. A pool safety net acts as a web that prevents anything from falling into the pool. The net is held in place by hooks surrounding the edges of the pool. If a child were to circumvent the fence, they would simply fall into the net/cover instead of the water.
Furniture (Be Aware) – An incredibly important aspect of pool safety is furniture. If you have a deck with a table and chairs, they can easily be used to climb over a fence. Prevent children from using furniture as stepping stools to get to the pool. Homeowners should bolt or chain furniture to the floor or house.
Education on Child Pool Safety – The number one defense against drowning is education. Teach kids at a young age that water can be dangerous if they're not careful. Education can keep them safe when you're not around. Children as young as 2 are learning how to turn themselves over if they happen to fall face-first into the water.
Swimming with a buddy – As a backup set of eyes, the buddy system helps BUT do not solely rely on that. Make sure you have adult supervision as well.
Adult supervision – Make sure to post several pool supervisors at various positions around the pool. This is will give you better coverage.
If you integrate these child pool safety tips you are on the way to making your pool a safer area.
Looking for a pool fence that meets the highest standards? Consider a Pool Guard pool fence.