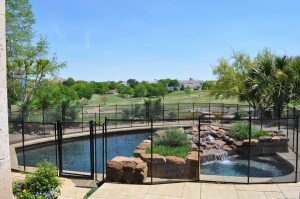 You would think shopping for a swimming pool fence gate would be easy. Aren't all pool safety fences the same? Furthermore, if you can save money, why not buy the cheapest on the market? All swimming pool fence gates do the same thing, right? They block entry to the pool.
Stop right there. Yes, pool fences are made to work as pool barriers. But, how well they perform and how durable they are – makes a world of difference. Getting a "bargain" pool fence will cost you in the long run. When you shop around for your swimming pool fence gate keep the following list on your radar.
Swimming Pool Fence Gate – 7 Must-Have Features
No Footholds and Handholds

The construction of the fence is important. A chain link fence or vinyl horizontal panel fence (with spacing in between) both pose a threat. Each has gaps that can aid in the fence being scaled. When assessing fences, take into consideration if that fence can be climbed over easily.


ASTM Certified

Does the fence meet ASTM requirements?
A pool gate must be certified by the American Society for Testing Materials. For a removable mesh pool fence, it should be 48 inches tall and non-scalable.
Note: the required height may differ by your geographic location. Check with your home insurance company to see what the required standard height is.

Durability

How does the swimming pool fence gate hold up to weathering the elements? Is it weatherproof? Wood will rot in time and chain link fences can oxidize. Our Pool Guard mesh pool fences are made to withstand these elements.

Gate lock quality

This is a very important component of the swimming pool fence gate that should not be overlooked. For a pool security gate, it MUST be childproof. Pool Guard uses the leader in self-latch gates, the Magna Latch. It uses a double-locking system.

Aesthetics & Visibility

Visibility is crucial. Whether you want to keep 360°unobstructed views of your pool, or see straight into it – keep it transparent. A mesh pool fence is ideal.

Warranty

Check to see if a warranty comes with the swimming pool fence gate and how much coverage it has. Pool Guard offers a limited lifetime manufacturer's warranty. Pieces like the fasteners, anchors, and mesh cover are covered as long as they have been installed by a Pool Guard dealer.

BBB – Better Business Bureau

Pool Guard is a member of the Better Business Bureau. When you purchase a swimming pool fence gate with us, you can shop with confidence.
Looking for a swimming pool fence gate that checks all the marks? Check out Pool Guard. We've been making kids and pets safe for over 20 years.